Kittens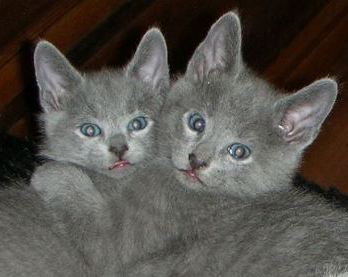 We like to give kittens our full attention and generally only plan for one litter at a time: very occasionally we have two girls who like to share their kittens. They are all born in our bedroom (and occasionally on our bed…) and home-reared, so they are used to normal family life. All Dushenka kittens have excellent pedigrees and are registered with the Governing Council of the Cat Fancy (GCCF) on the non-active register, as we usually only let kittens go to loving family homes within the UK and not for breeding. They are fully vaccinated, wormed, microchipped, neutered and vet-checked at least three times before they leave home, usually at about 4 - 5 months old. We follow the GCCF Code of Ethics. They also come with 5 weeks insurance, a supply of their favourite food and cat litter, plus some toys, to smooth their transition into their new home. We expect new owners to take as good care of our kittens as we have, and love them as much or more.
If you are interested in being considered for one of our kittens then please email and tell us about yourself and your family and home, where you live, and why you are interested in Russian Blues - you can use this contact form. When we have kittens again, if we consider that there may be a fit between you and one of our kittens you will be invited to visit once they are old enough. Such preliminary visits are on a 'no-obligation' basis on both sides. Please note, all prospective kitten owners will be expected to visit at least once to ensure a perfect fit between kitten and new family - no exceptions. We don't expect to have any kittens available now until summer 2021 at the earliest, and will start conversations with potential new families at that point. Any queries received before then will be kept on file for later review once we have kittens.

**Please note that due to COVID-19 restrictions we will not have visitors inside the house for the forseeable future, but will arrange physically-distanced meetings in a safe part of our garden for shortlisted potential new owners. We are extremely unlikely to consider long-distance inquirers and will be prioritising inquirers from our local area. We live just a few miles south-east of Glasgow and can be reached easily by road, bus or train.**

You can also check the RACCS website for details of other breeders who may have kittens: RACCS Breeder List

There are photos and progress reports of some of our previous litters on the girls' pages. You can also see photographs of more Dushenka kittens in the Gallery.
Hear our prayer, Lord, for all animals,
May they be well fed and well treated and happy.
Protect them from hunger and fear and suffering.
And, we pray, protect specially, dear Lord,
The little blue cat who is the companion of our home.
Keep her safe as she goes abroad
And bring her back to comfort us.
(Traditional Russian prayer)