Kittens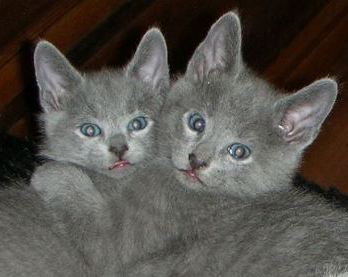 I like to give my kittens my full attention and only plan for one litter at a time. They are all born in my bedroom (and occasionally on my bed…) and home-reared, so they are used to normal family life. All Dushenka kittens have excellent pedigrees and are registered with the Governing Council of the Cat Fancy (GCCF) on the non-active register, as I usually only let my kittens go to loving family homes and not for breeding. They are fully vaccinated, wormed, microchipped, neutered and health-checked at least three times by my vet before they leave home, usually at about 4 months old. I follow the GCCF Code of Ethics. They also come with 5 weeks insurance, a supply of their favourite food and cat litter, plus some toys, to smooth their transition into their new home. I expect new owners to take as good care of my kittens as I have, and love them as much or more. New kitten owners are also expected to visit at least once to ensure a perfect fit between kitten and new family - no exceptions.
We may have kittens available in the winter, with quite a few names already on the list to be considered when the time comes. If you are interested in being considered for one of our kittens then please email and tell us a bit about yourself and your family.

You can see photos and progress reports of some of my litters on my girls' pages:
You can also see photographs of more Dushenka kittens in the Gallery. Please contact me if you would like more information.
Hear our prayer, Lord, for all animals,
May they be well fed and well treated and happy.
Protect them from hunger and fear and suffering.
And, we pray, protect specially, dear Lord,
The little blue cat who is the companion of our home.
Keep her safe as she goes abroad
And bring her back to comfort us.
(Traditional Russian prayer)