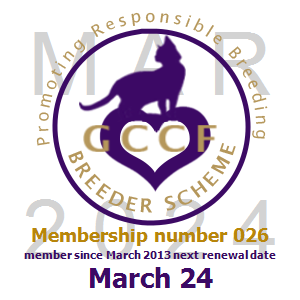 Welcome to the Dushenka website.
My name is Elisabeth Stark and I have shared my home with Russian Blue cats since 1978. My Dushenka prefix is registered with the Governing Council of the Cat Fancy (GCCF) and I am proud to have been one of the first breeders accepted onto the GCCF's enhanced Breeder Scheme.

I have been showing and breeding pedigree Russian Blues in Glasgow for over 40 years and have been fortunate enough to have bred 58 titled cats in that time, as well as other prize-winning cats and kittens. I am particularly proud to have bred the first-ever Grand-titled, Imperial-titled and UK-titled Russian Blues in Scotland - Grand Premier Dushenka Boris (born 1986); UK & Imperial Grand Premier Dushenka Xariabella (born 2008) and UK & Olympian Gold Imperial Grand Premier Dushenka Zerachiel (born 2010). Zerachiel also had the honour of being the first-ever Olympian-titled Russian at Bronze, Silver and Gold levels!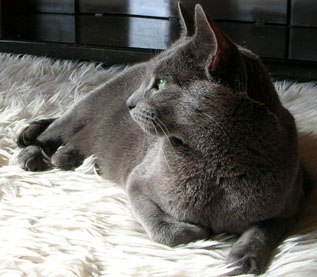 Above that though, I have enjoyed the loving companionship of my beautiful and elegant cats, and seen my kittens bring similar joy to the families they have joined. Very occasionally, I have Russian Blue kittens with affectionate natures and excellent pedigrees available to loving, permanent pet homes - you may have to wait a while, but they are worth waiting for!
If you are interested in a kitten please see the Kittens page.

2023 news - News for 2023 is on the News page


We hope you will enjoy your visit to our website: please feel free to leave comments in our guest book.