Kitten news - Yzzy
---
19 June 2010
This is the last update for this litter, as Zach leaves for his new home tomorrow. It has been a big weekend for my little boy as today he made his show debut, surpassing all expectations by winning best in show foreign kitten! More details can be found of our fantastic day on the News page. Ziva's turn at shows will happen soon too - both these babies are absolute delights, specialising in purrs as huge as their ears!
---
29 May 2010
My angelic little babies continue to delight me with their sweet, mischievous ways. They are developing in leaps and bounds, with Zach now weighing over 1.5kg, and Ziva not far behind. They are far too fun-loving to sit around long for photos, but they are as lovely as they are sweet-natured.
---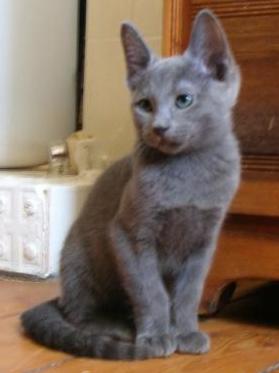 22 May 2010
Zach and Ziva have obviously decided that it is time to take over the universe, and spent the day happily gambolling up and down the stairs like a pair of spring lambs, examining every corner and discovering all sorts of new games to play.
Yzzy joined the other adults for an hour or so for a little break, before going back to sitting proudly watching her babies running around like super-charged streaks of elegant grey fluff. Zach's new owner came to visit again, and Zach made it very clear that he loves his new 'mum'.
ß
Zach posing elegantly as ever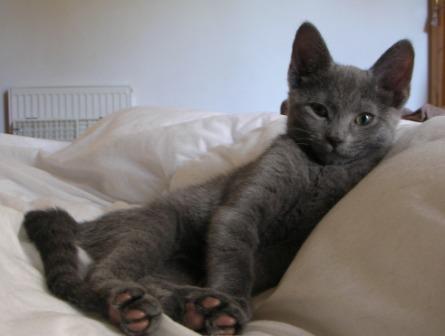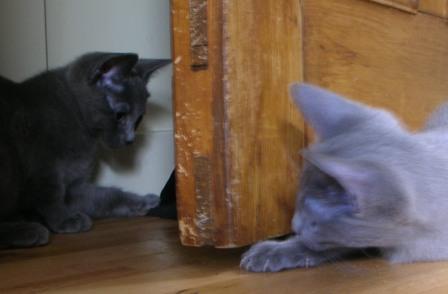 We did have a rather bizarre moment when Yzzy decided that she didn't want chicken for lunch - no, no, she wanted our fruit scones. I think she ate more of them than we did. Fortunately for my sanity Zach and Ziva stuck to their more normal food!
Cheeky Ziva
---
15 May 2010
Today was the kittens' first excursion out of the house - up to the vets for their first injections. Both of them loved being the centre of attention, schmoozing everyone they could get their little paws on, and seeming utterly unbothered by the actual vaccination too. Then it was back home to their usual routine of careering around upstairs in-between snacking and snoozing. The photos below show mischievous little Ziva pouncing on Zach, then Ziva lining up to pounce on her brother again, whilst Zach just sits posing beautifully.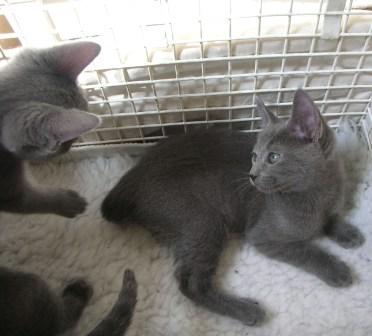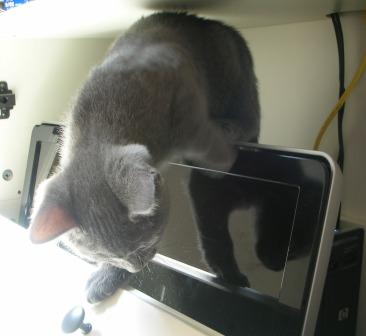 ---

9 May 2010
Yzzy's babies continue to amaze me with their rate of growth, both of them now being well over 1kg in weight. They are becoming ever more adventurous and venturing out of their nice, safe, warm room for galloping, gallivanting games of chase! The big cats have looked over them, but so far keeping their distance but it won't be long before they are venturing downstairs.
---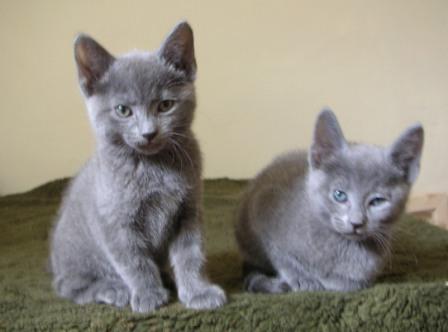 1 May 2010
Seven weeks old, and Yzzy's babies are into absolutely everything! Ziva is such a little scamp it is almost impossible to get a photo of her sitting still, but we finally managed it. Zach is altogether calmer than his nutty sister, who of course is staying with me. They obviously like to think they are very grown-up now, stealing their mum's food, and only using the big adult litter tray now, but are also the most adorable time-wasters, straight onto my knee when I sit with them, but just as happy galloping around after their latest favourite feathery toy.

---

24 April 2010
We had our favourite professional photographer around today - Krissi Lundgren - and Zach and Ziva had a whale of a time galloping around the living room before coming to have their photos taken We were going to leave Yzzy this time as you can see she is obviously a caring mum rather than a posing show queen right now, but she was determined to join in too. Photos will follow shortly - and they are lovely!
---

17 April 2010
Now five weeks old, and getting into everything, Zach and Ziva are eating and have fully litter-trained themselves under their mum's watchful eye. They are an absolute to delight to watch as they frolic and dive around with each other, and both are very lovely indeed.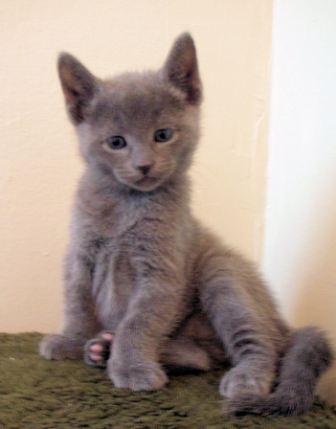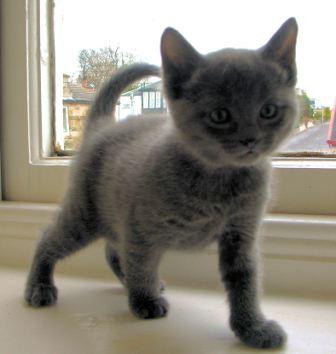 Zach Ziva Yzzy and babies
---
10 April 2010
Four weeks old, poochily adorable babies! Zach is growing into a very handsome young man, whose favourite hobby so far seems to be sleeping. Ziva is doing her best to tell me that she is staying put, reminding me so strongly of her great-grandmother Bella with her wistful expression and enjoyment of tummy tickles, whilst also having some of the cheekiness of her mother Yzzy.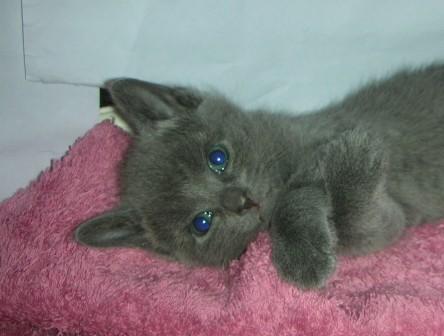 Zach and Ziva Zach Ziva
---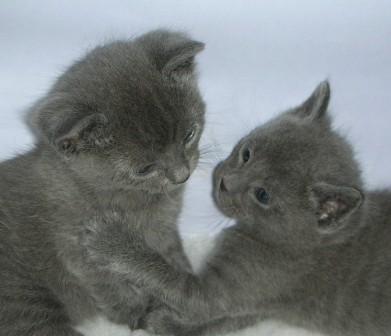 3 April 2010
Ziva and Zach
are now three weeks old, tumbling around and happily playing with each other, and even beginning to sniff their mother's food. Yzzy is as perfect as ever!
---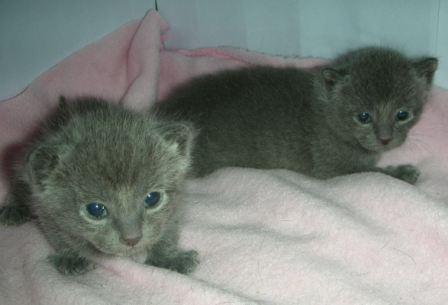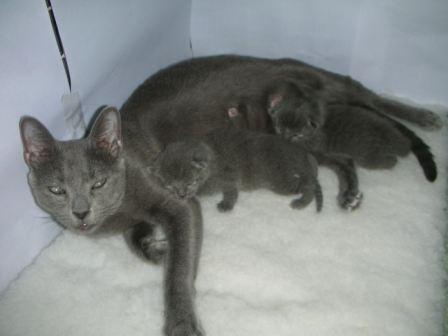 27 March 2010
Ziva and Zach continue to do really well
- Yzzy is enjoying herself as a mother, is really happy and relaxed and loves showing off her babies to me.
---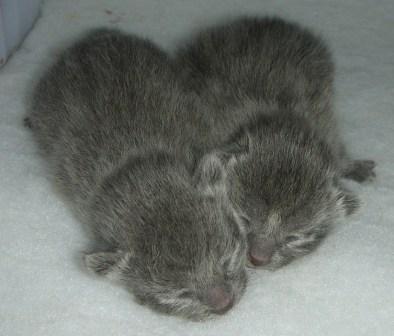 20 March 2010
Lovely plump babies! Yzzy has really done herself proud, and is the most attentive and happiest of mothers.
---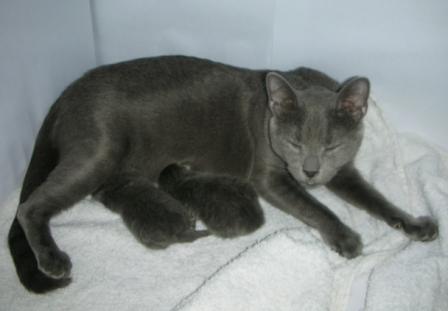 13 March 2010
After keeping me waiting a nail-biting 68 days Yzzy finally revealed that her super-large tummy was full of two super-large kittens rather than a super-large litter! These are my biggest ever kittens in nearly 30 years of breeding, and from my little Yzzykins too. Congratulations to my baby girl on her first litter of kittens, born with me cheering her on, but with absolutely no other help at all despite their generous proportions! Yzzy has suddenly metamorphosed from cute, wicked little kitten to cute, blissfully happy, dedicated mother, and so far appears determined that her babies should continue in their chubby ways. In this photo they are only 12 hours old, and already well over 130g each.
My apologies to all the people waiting for kittens who we are going to have to disappoint...
---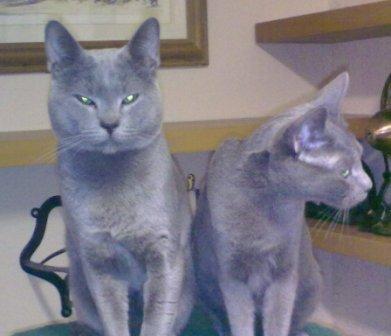 January 2010
Yzzy has been away visiting Archie - Champion Melkelter Merry Monarch, to give him his full name. Archie is as sweet-natured as he is beautiful, so fingers crossed for kittens in a couple of months time.
Archie and Yzzy
---