Kitten news - Jingle's first litter
---
17
August 2014
I have just waved off Nate to his new home, with the mother of Norman's human dad! Although I am very sorry to see him go it was obvious from the first time Elsa picked him up that he had found his new mum. Noah's new owners are coming to pick him up all too soon as well...
One thing is for sure, I definitely want Jingle and Squidge to make more babies together - these kittens have been an utter delight!
---
5 August
2014
I am still enjoying the company of Nate and Noah - Noah now being known as Norman II!
I was told off so much for naming a kitten Norman I even asked his owner if he would like to choose a different pedigree name, but no - he liked his name. Then Noah's owners said that they liked that name too... so I am referring to him as Norman II to try and minimise confusion!
I had originally planned to keep Nate here, at least for a while, but common sense has to prevail once in a while so I will be letting him go when he chooses his new family. It has not an easy decision to make as he is such a sunny-natured boy and so affectionate too, like all of this litter. In the meantime he and Norman II are best buddies, getting up to all sorts of kittenish mischief!
---
10 July 2014
Today it was the turn of Nikolas and Neville to leave us, plus big Nigel. All three bounced back from their pompomectomies as if nothing had happened at all and went off with their new humans very happily. The house feels strangely quiet without them, and I must admit to suppressing a few tears again... Noah has also selected his new humans, and will join them and his great-auntie once they have moved house.
---
5 July 2014
We bid a fond farewell to Norman today - I am really going to miss him, sweet boy. Norman had his 'pompomectomy' on Tuesday, and it was as if nothing had happened to him at all as he came home and was straight back to eating, purring and playing as usual! I am so glad my vets are happy to neuter early as I have no doubt at all in my mind that it is actually much easier on my kittens.
Nigel's new mum visited again with her partner, and yet again Nigel went running up to her for loads of cuddles. Nev and Nik have also selected their new humans, and will be going to live with two other Russian Blues, and hopefully will also appear on the show bench on occasion. Nigel, Nev and Nik are off to the vets for their wee ops and then will be off to their new families too.
---
8 June 2014
Here are a couple more photos of Jingle's Mini-Squidges - it looks like Nate and Norma-Jean have now selected their humans, and more visitors due this weekend.
All seven together - look carefully and you will see they are all there! Plus a photo of loads of kitten paws, so cute!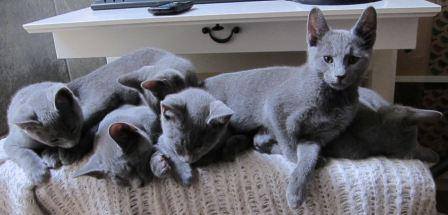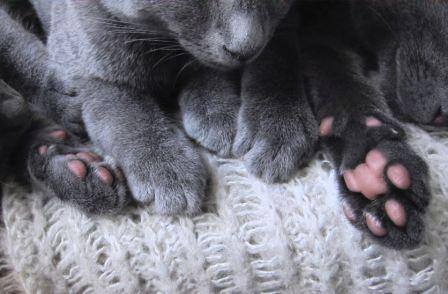 ---
5 June 2014
Finally - some photos of Jingle's Mini-Squidges! Adorable babies....
From left to right: Nathaniel; Nikolas; Norma-Jean; Neville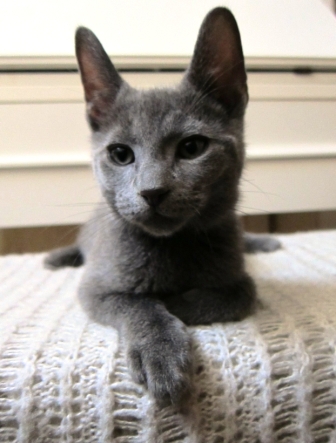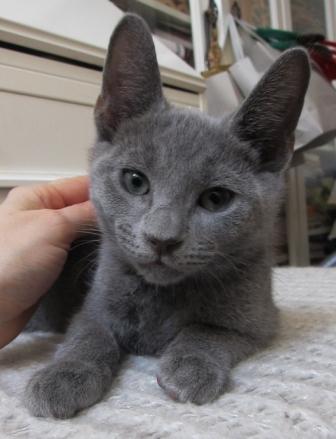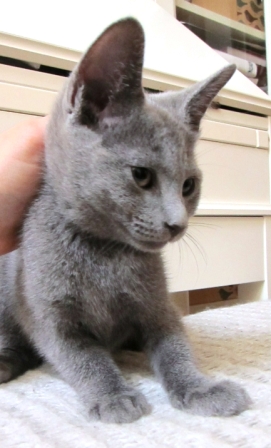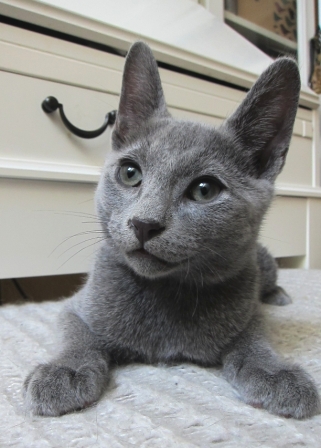 From left to right: Nigel; Noah; Norman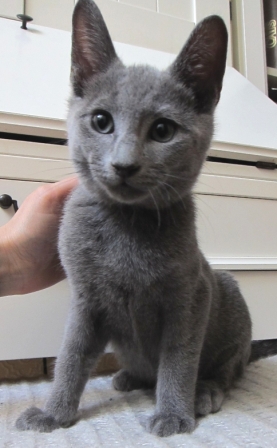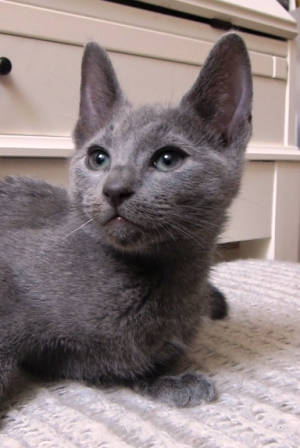 ---
May 2014
Jingle's 'mini-Squidges' have now had their first vaccinations, and were so relaxed about the whole process that they actually all fell asleep at the vets!
We were there for quite a while, so that everyone could have a good cuddle with them all, and the babies wowed everyone that they met with their gentle charm and beauty.
They are also eating us out of house and home - healthy appetites being an understatement, given the rate they are eating and growing right now! They really are adorable babies, combining the loving nature of both their parents with their good looks too.
---
Jingle's first kittens
My sweet young Jingle has had her first litter of kittens, dad being the super-soft Jerry-Squidge. I am very proud of Jingle, who produced her kittens with ease, and has proved to be a great mother. She has an amazing seven 'mini-Squidges' who are wonderful, funny, outgoing little souls, six boys and one little girl. The girl has been named Norma-Jean by my friend Ian, and the name has definitely stuck! Her brothers are all rather lovely too: big bashful Nigel; cheeky Norman; Nate has his naughty side; Noah is a bit more dignified, Nikolas too, and finally Neville - a slightly silly name for a slightly silly kitten!
---